Inesoft Cash Organizer 2007 Premium helps you take control of your finances at any time. Cash Organizer unites all your accounts in one place, watches your budget and reminds you of planned payments.
Inesoft Cash Organizer 2007 Premium was designed to be convenient when you are on the move. Cash Organizer personal money management software offers an express transaction registering system, instant access to your current financial condition, fast credit calculation and cost check, informative reports and data synchronization with Intuit Quicken 2007 and Microsoft Money 2007. This is Inesoft Cash Organizer, a powerful financial manager in your pocket.
Cash Organizer included:

Compatible with Windows Mobile 5/6 and Pocket PC devices;
Completely Redesign Interface; NEW
Express module for fast register input NEW
MS Money 2007 data synchronization NEW
Intuit Quicken 2007 data synchronization NEW
Import data from Spb Finance NEW
Budget overflow alarms
OFX file import for bank synchronizer NEW
and more then 30 new features

Loan calculator NEW
Today Plugin smart info NEW
Notification of upcoming bills
3D graph interactive reports
Customizable Today plug-in NEW
Advanced backup system
Payee manager NEW

Cash Organizer Personal Money Management Software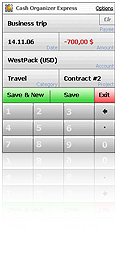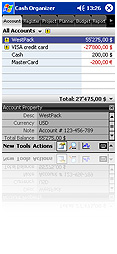 ---
* Microsoft Money are registered trademarks and/or registered service marks of Microsoft Corp, Quicken˘ç are registered trademarks and/or registered service marks of Intuit Inc. or one of its subsidiaries, in the United States and other countries.